We at Northerner want to make sure that you have a great shopping experience with us. Therefore we have collected some questions that might come up when browsing for your favorite snus, snuff or chew. Basic info like shipping times can be viewed in our Terms & Conditions section. And in case you have a more specific question, our customer service team is always happy to assist you. You can reach them here.
Order Process
Why is my shopping cart empty?
If your shopping cart is displayed as empty or some products are missing when you try to order them, double check that you have selected the correct shipping destination in the "shipping to"-menu, which can be found in the upper left corner on our website. This ensures that you will view all products available for shipping to your country.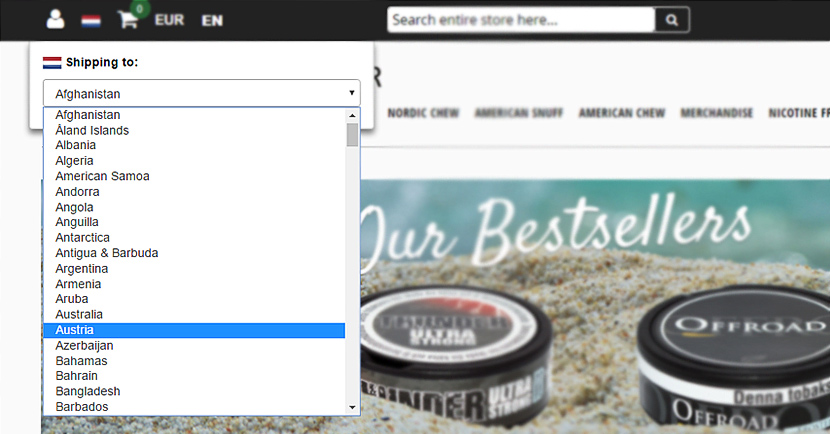 Why can't I see my order in my account?
If you have placed an order and now you can't find it in your customer account, it means that you were not logged in to your account during the order process. Please always make sure to log in to your account before you place an order. That way you will be able to follow the status of your order and benefit from our membership discounts. Click here to see our membership options to always get the best deals.
Can I add an existing order to a customer account afterwards?
If you placed an order without logging in to a customer account, it is unfortunately not possible to link your order to an account afterwards. We recommend to place all your orders through a customer account so that you can follow the status of your order and receive the best customer discounts. You can create a customer account here.
Can I cancel my order?
As soon as we receive your payment, your order is being processed. Please contact our customer service as soon as possible if you wish to cancel an order and we will try to stop the processing before the order leaves our warehouse.
Can I change the products in my order?
Once an order is in our system, the selected products cannot be changed manually afterwards. If you ordered a wrong product by accident, please contact our customer service – in case your order has not left our warehouse, we can cancel your order for you so that you can place a new one with the right products.
My order status says "complete" – what does that mean?
The order status "complete" confirms that all products included in your order have left our warehouses and are currently being shipped to your address.
Why does the total amount for my order change when I go to the checkout?
The prices on our site are base prices. The total amount of your order (including all costs like taxes and shipping) is displayed at the checkout once you fill in your address details. You can of course see the total amount before you proceed with your payment.
Payment
Which payment options do you offer?
We offer payment by bank transfer and credit card*. We can unfortunately not accept Paypal or cash payments. All orders need to be paid before they are shipped.
Why can't I select bank transfer as a payment option?
Bank transfer payment can be selected for orders from 25.00 euros (ca $27.76). Credit card payment can be chosen for any order.
When do I have to pay for my order?
If you select payment by credit card, you will be instantly directed to the online payment process and can pay for your order right away. If you select payment by wire bank transfer, it is up to you when to pay for your order. Please keep in mind that your order will be processed and shipped once the payment has reached us.
Shipping
I stated a wrong shipping address, can I change it?
If you want to change your address, please contact our customer support team as soon as possible. Please note that we can only change the address as long as the order has not yet been shipped. We cannot change the country in retrospect due to strict tobacco regulations.
Where is my order?
From the moment your order leaves our warehouse (usually within 48 hours), estimated shipping times are 1 to 7 working days, depending on the destination. For more detailed info on shipping times, you can click here.
Sometimes delays occur due to local postal delays. If your parcel isn't with you by the end of the estimated delivery times, please contact your local customs and post office to see if any packages are held under your name.
If no further information can be obtained there, you can contact our customer support team for further assistance.
Can I track my order?
If you select UPS shipping for your order, you receive a tracking number from UPS and can track your order.
If you select USPS your order is shipped with regular mail. There is unfortunately no tracking option.
If you have a customer account, you can check the status of your order from the moment you place it until it leaves our warehouse. You can open an account here.
Can you ship my order to my hotel while I'm on holiday?
We strongly recommend that you state a shipping address where you will be staying for at least 2 months after placing the order. Otherwise we can unfortunately not guarantee that you will receive your order in time since sometimes delivery times can be delayed due to customs or postal services which is beyond our control. We do not reship or refund orders which were sent to a temporary address.
If you're unsure what to do, don't hesitate to contact our customer support team for further assistance.


Why can't I find my state in the selection category?
If you live in Arkansas, Arizona, Georgia, Iowa, Maryland, Oklahoma, Oregon, South Dakota, Utah, Vermont, Washington or Wisconsin, we are unfortunately not allowed to sell tobacco to you. Its forbidden with online sales of tobacco in these states.
Discounts
Was my membership discount applied to my order?
Membership discounts are not displayed separately. When you are a silver, gold or diamond member and log in to your customer account, you automatically see discounted prices for all products. Make sure to be logged in to your customer account in order to receive the discounts you're eligible for.
Why does my discount code not work?
You might be trying to use a discount code that is not valid anymore or that has already been used to many times. Discount codes are not active during sales campaigns since all prices are already discounted and different discounts cannot be combined.