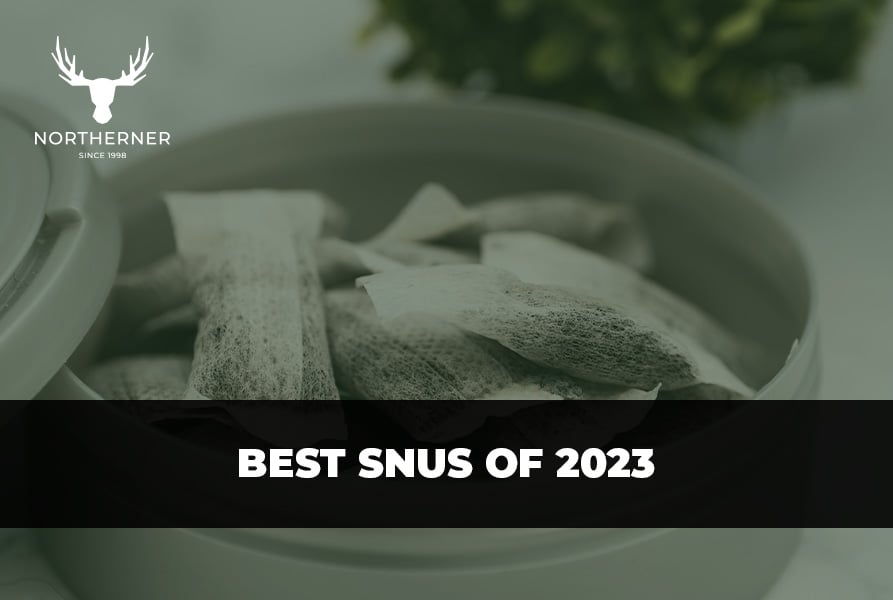 Best Snus of 2023: All Snus Products Ranked
Snus is a smokeless tobacco product that originated in Sweden and is typically placed under the upper lip, where it releases nicotine. Unlike traditional American smokeless tobacco products, such as chewing tobacco or snuff, snus is pasteurized during manufacturing and usually comes in preportioned pouches. Snus use in the USA has been gaining popularity in recent years, but which is the best snus? Snus is available in various flavors and strengths, so we ranked the best snus brands and ranked the bestselling snus products of 2023. Whether you buy Swedish snus or buy American snus - these rankings cover all you need to know!
Best Snus of 2023: Top Brands
The fight for the best snus brand of 2023 is tough, with so many different brands of snus available, but which brand comes out on top?
Best Swedish Snus 2023: General
General Snus is a popular brand of Swedish snus, known for its high-quality pouches and wide range of flavors - but what sets General Snus apart and contributes to its popularity is its rich heritage and commitment to quality.
The range is one of the original brands of Swedish snus, with General making snus with classic recipes since the 1800s. General have perfected their snus recipes and manufacturing processes over the years, resulting in a product that is consistently recognized for their flavor and quality.
General Snus offers a variety of flavors, ranging from traditional tobacco flavors to other options like mint and fruit blends. This extensive flavor selection caters to different preferences and ensures there is something for everyone.

In essence, General Snus' long-standing history, commitment to quality, diverse flavor range, and convenient packaging have contributed to its popularity among snus enthusiasts in the US and across the globe.
Best American Snus 2023: Camel
Camel Snus is the top American snus brand of 2023 produced by R.J. Reynolds Tobacco Company, a subsidiary of British American Tobacco. Camel snus has been sold in the U.S. since 2006, and has become a solid favorite among American snus users.

What sets Camel Snus apart and contributes to its popularity is its unique flavor profiles that are specifically tailored to the American palette. The brand offers an extensive range of options, including traditional tobacco flavors, such as Frost, Mellow, Robust, and Winterchill, as well as alternative flavors like Mint, Citrus, and Frost Large. This diverse flavor selection caters to different preferences and means there is a Camel snus flavor for most snus users.
---
Best Snus 2023: Top 5 Snus Products
Which products came out on top? Our experts review the most popular snus of all snus pouches based on Northerner customer data!
1. Camel Frost
"Camel Frost, particularly Camel Frost Large, is top of the best snus of 2023. Camel Frost Snus is characterized by a cool flavor: combining the classic tobacco flavor with a hint of menthol, for a cool and minty flavor and feel. It is a great choice for snus users who prefer American snus and like a cooling sensation or minty flavors."
2. General Mint
"Another mint-flavored snus in the top spots, the General Mint snus gives a peppermint flavor combined with the distinctive tobacco flavor of Swedish snus. Each can has the pouches arranged in a "Star Format", a layout unique to Swedish Match General snus! Each pouch has the sweet aroma of peppermint, that also gives a cooling sensation from start to finish. Each portion is semi-moist, and the flavor is definitely on the sweeter side, but still gives a proper snus experience - which is probably why they are a firm favorite among Northerner's Swedish snus users!"
3. Camel Winterchill
"A snus with a classic wintergreen flavor. From the moment you open the can, the aroma of sweet wintergreen is prominent. Each portion is long yet slim, so they park nicely, and they are on the drier side (avoiding dripping). The flavor you get is a combination of both wintergreen and the dark notes of tobacco, so they are a solid option for wintergreen-loving snus fans!"
4. General Wintergreen
"Another wintergreen flavored snus: however, General Wintergreen's taste is quite unique. With an aroma similar to Wintergreen Life Savers or Skoal Wintergreen, but with a flavor where you can also taste the tobacco and even a subtle saltiness. The hint of tobacco and the slight saltiness works well with the Wintergreen and helps fight the bitterness you can find in some wintergreen flavored tobacco products. A solid choice for Swedish snus fans!"
5. Camel Mellow
"Last but not least, Camel Mellow makes it into the top snus of 2023 list. These pouches are tobacco centric, with a sweet tobacco aroma. Each portion is slim and long, which parks comfortably under the lip. When parked, you are met by the flavors of sweet tobacco, but with a little added spice in the background. If you like a tobacco-focused flavor, these are the pouches to try."
Best Snus Flavor: Top 3 Best Snus Flavors of 2023
Snus comes in a range of different flavors, not just tobacco. What is the consensus among snus users - which is the best-tasting snus? The top three best snus flavors among Northerner snus customers are:
1. Mint
2. Wintergreen
3. Tobacco
Where to Buy The Best Snus of 2023
You can buy all the best snus products on Northerner. Northerner has over 25 years experience, our range stocks the top smokeless tobacco products. Order today for fast delivery from our warehouses across the U.S.