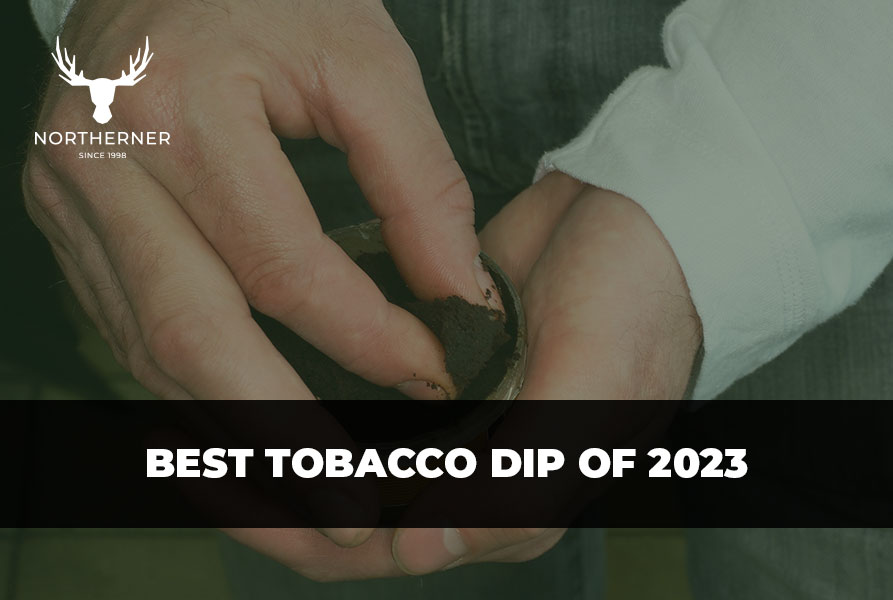 Best Dip Tobacco Products (2023)
Looking for the best dip tobacco products of 2023? Look no further! In this comprehensive guide, we'll be exploring the top dip brands, the finest long-cut and fine-cut dip products, and the most popular dip pouches on the market. Get ready to discover the ultimate dip tobacco products that deliver rich flavor, a smooth texture, and an authentic dipping experience. Join us as we delve into the best dip tobacco offerings of 2023 (as rated by Northerner dip tobacco users) and find your perfect match.
Best Dip Brands of 2023
There are many different brands of dip tobacco battling it out to be the best brand - but which brand comes out on top with Northerner customers?
Best Dip Brands Winner 2023: Copenhagen
Copenhagen is a popular brand of dip tobacco known for its quality and long-standing reputation in the market.
Copenhagen is a well-known and respected brand in the dip tobacco industry. Here are the basics about the Copenhagen dip tobacco brand. The brand has a long history dating back to 1822, making it one of the oldest and most established dip tobacco brands in the market. It has built a strong reputation for quality and craftsmanship over the years, using high-quality tobacco leaves in their dip products to ensure a rich and authentic flavor.
The range of Copenhagen dip products has flavor options to cater to different preferences: from classic flavors (such as Straight and Natural) to other flavored options like Wintergreen and Mint. Copenhagen offers different cuts, with long-cut tobacco options (providing a longer strand of tobacco) and fine-cut tobacco varieties (which have a more finely ground texture). This allows users to choose the cut that suits their personal preference.
Copenhagen has been trusted by dip tobacco users for many years, providing consistently high quality products - it is no wonder it was rated the top of the best dip brands list.
Honorable Mention for Best Dip Brand: Skoal
In a close second in the competition for the title of best dip brand is Skoal. Skoal is a popular brand thatl offers a wide selection of flavors and cuts - no matter whether you prefer traditional flavors like Wintergreen, Straight, or Mint, or you're looking for more unique options like Berry or Citrus, Skoal has a whole range of options to choose from. Their commitment to quality ensures that you receive a satisfying and consistent product, they especially pay attention to the moisture content of their dip tobacco, ensuring it remains moist and flavorful. This helps prevent the tobacco from drying out and provides a smoother dipping experience.
Skoal offers a range of different cuts, including long-cut and fine-cut options, so you can choose what texture and experience you want from your dip. Whether you prefer longer strands of tobacco or a finely ground texture, Skoal has you covered. Their commitment to quality and range of options is part of what makes Skoal part of the top dip brands list consistently.
Best Dip Products: Top 5 Overall
Which dip products came out on top? Our experts reviewed the top 5 dip products of 2023 as voted for by Northerner customers!
1. Copenhagen Wintergreen 1.2oz Long Cut
"Top of the list of best dip products 2023 is Copenhagen Wintergreen Long Cut. Copenhagen Wintergreen Long Cut Dip Tobacco is a top-rated product among dip tobacco enthusiasts. With its distinctive wintergreen flavor and long-cut texture, it offers a bold dipping experience. The tobacco is of high quality, ensuring a rich and flavorful taste with each pinch. Copenhagen is known for its commitment to craftsmanship and consistency, making it a trusted brand among dip tobacco experts. If you enjoy the classic flavor of wintergreen and prefer a long-cut dip tobacco, Copenhagen Wintergreen Long Cut Dip Tobacco is definitely worth adding to your basket!"
2. Grizzly Wintergreen 1.2oz Long Cut
"In close second is another wintergreen long cut dip - but this time from Grizzly. Grizzly Wintergreen has a robust wintergreen flavor and long-cut combined with strong nicotine content. Grizzly is a trusted brand, with a consistent experience across their range. Grizzly Wintergreen Long Cut Dip Tobacco is a solid option for a flavorful dip experience."
3. Copenhagen 1.2.oz Long Cut
"Copenhagen 1.2 oz Long Cut Dip Tobacco is a classic and highly regarded choice among dip tobacco users. Known for its premium quality and rich, full-bodied flavor, this long-cut tobacco offers a smooth dip experience. Balancing the intricate flavors of tobacco, Copenhagen delivers a taste that is clearly popular among dip users. This dip has long-lasting flavor and easy-to-handle cut make it a favorite among seasoned dippers, which is why it made it to the best dip products of 2023 list."
4. Copenhagen 0.82oz Pouches
"The first dip tobacco pouches on the list, Copenhagen 0.82 oz Pouches provide a convenient and mess-free experience for dip fans. These pre-packed pouches are a convenient choice for dippers on the go and focus on the rich flavor notes of the tobacco. Having the tobacco in pouch form means that using the product is quite clean and definitely hassle-free. If you're looking for a dip product that balances convenience and flavor, give Copenhagen 0.82 oz Pouches a shot!"
5. Skoal Original Wintergreen 1.2.oz Fine Cut
"Skoal Wintergreen Fine Cut is a classic dip tobacco option for wintergreen flavor fans. With its finely cut texture, it packs easily and provides a smooth and consistent pinch. The wintergreen flavor is very prominent versus other wintergreen dip products like the ones from Copenhagen and Grizzly. If you like a fine cut dip and prefer a dip tobacco that is not too strongly tobacco flavored, Skoal Wintergreen is one to consider."
The 5 Best Long-Cut Dip Products
1. Copenhagen Wintergreen 1.2oz Long Cut
2. Grizzly Wintergreen 1.2oz Long Cut
3. Copenhagen 1.2.oz Long Cut
4. Skoal Wintergreen 1.2.oz Long Cut
5. Kodiak Wintergreen 1.2.oz Long Cut
The 5 Best Fine-Cut Dip Products
1. Skoal Original Wintergreen 1.2.oz Fine Cut
2. Copenhagen 1.2.oz Fine Cut
3. Longhorn Natural 14.4oz Tub Fine Cut
4. Stokers Natural 12oz Tub Fine Cut
5. Grizzly Natural 1.2.oz Fine Cut
The 5 Best Dip Pouches
1. Copenhagen 0.82oz Pouches
2. Grizzly Wintergreen 82oz Pouches
3. Skoal Mint 82oz Pouches
4. Copenhagen Wintergreen 0.82oz Pouches
5. Skoal Xtra Mint .82oz Pouches
Buy the Best Dip of 2023 on Northerner
You can buy dip and snuff tobacco the best products from all dip and snuff brands from these rankings on Northerner. Northerner has over 25 years of experience, our range stocks the top smokeless tobacco products, such as dip and chewing tobacco. Order today for fast delivery from our warehouses across the U.S.