From Snus User To Snus Maker
Chad Jones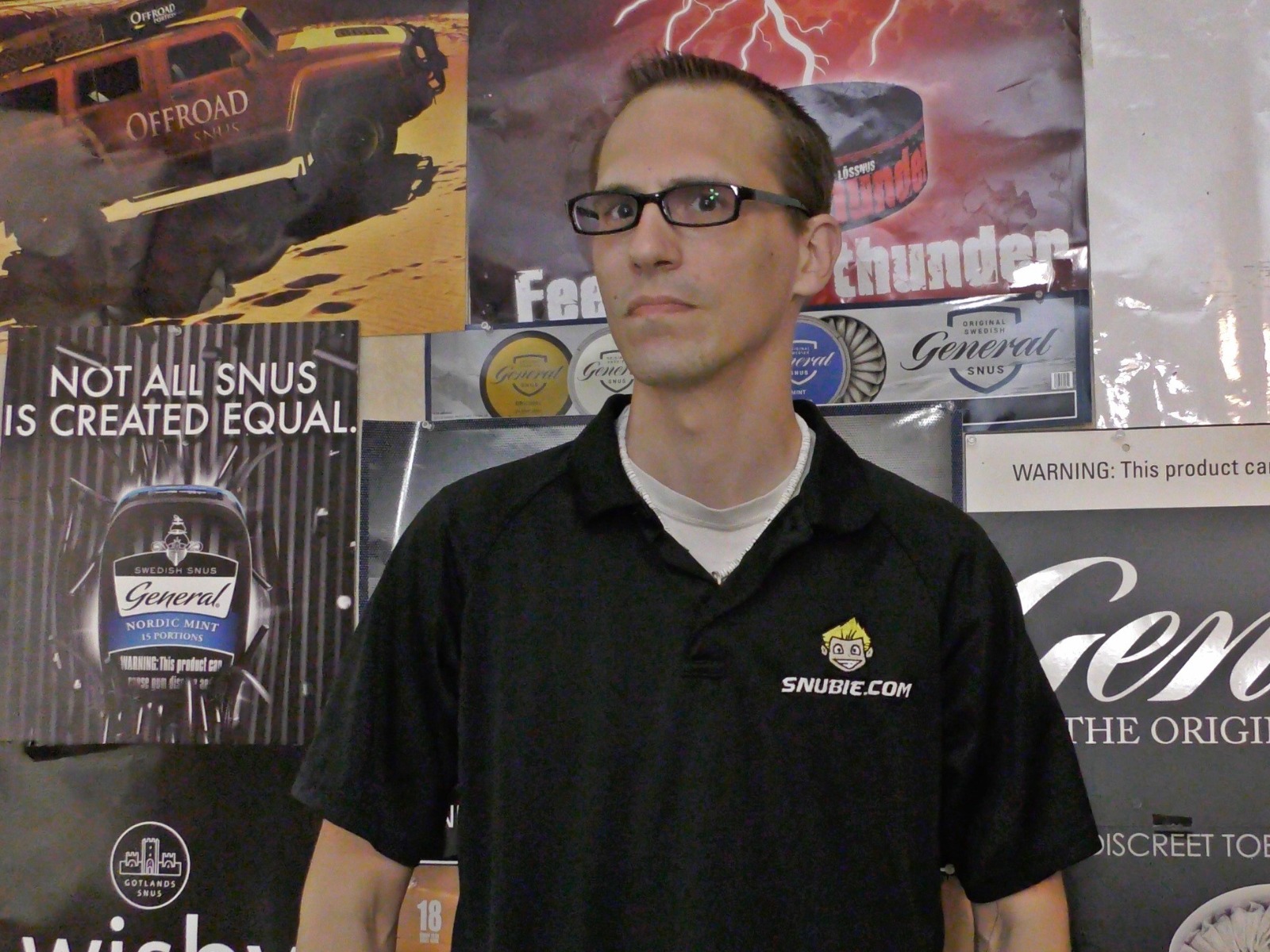 Humble Beginnings
In May of 2009, I discovered the exciting world of Swedish Snus. I won't rehash my back story too much, because it's a story that has been told many times. However, a quick recap. I was a pretty heavy smoker unable to quit smoking with any means available to me at the time. I discovered the American "snus" product made by Camel, and it led me to the internet where I discovered real Swedish Snus. Within a week of my first online order of Swedish Snus, I was able to quit smoking, and I haven't looked back since. I founded Snubie.com shortly after that, because I wanted to write about this amazing discovery I had made, and help inform other Americans about it. Snubie initially was meant to be a resource to help Americans transition from American "snus" to real Swedish Snus. And for a short time, it was. However, it grew into so much more, and became a go to source for news, reviews, and information about Swedish Snus. And now, other products such as CBD and nicotine pouches.
In the early days, before Facebook Groups, many of us congregated on online snus forums. It was a great place for us snus fans to sit for hours and talk about snus. We would discuss what we were using, what we were considering putting on our next order, what we liked, what we didn't like, and oftentimes what products we felt the market was missing and what we would like to see created ourselves. Sometimes, these ideas would come to life. V2 Tobacco was a company that was heavily involved in the online snus community, and would often listen to what consumers wanted and go and make those products. Thunder Ruby Sting Chew Bags wouldn't exist without Thunder Ultra Strong Raspberry Snus, which wouldn't exist without snus fans asking V2 Tobacco to make a raspberry flavored snus. In the early days, the online community was a big part of some great products that were launched onto the market. And, it certainly inspired me.
Over the years of writing about snus, I established some great working relationships with all the major snus manufacturers in Sweden. Many of these relationships became great friendships. One of the things that impressed me so much about the snus world was how transparent these companies were and how easy they were to talk to. In the US, if you sent an email to a tobacco manufacturer, you'd be lucky if you even received a response. When I would write manufacturers in Sweden, I would receive responses within 24 hours. It was something that always impressed me! These relationships, unbeknownst to me, would eventually lead into me being able to develop my own Snubie branded products, something that I never imagined would happen to me. It all would begin in late 2017.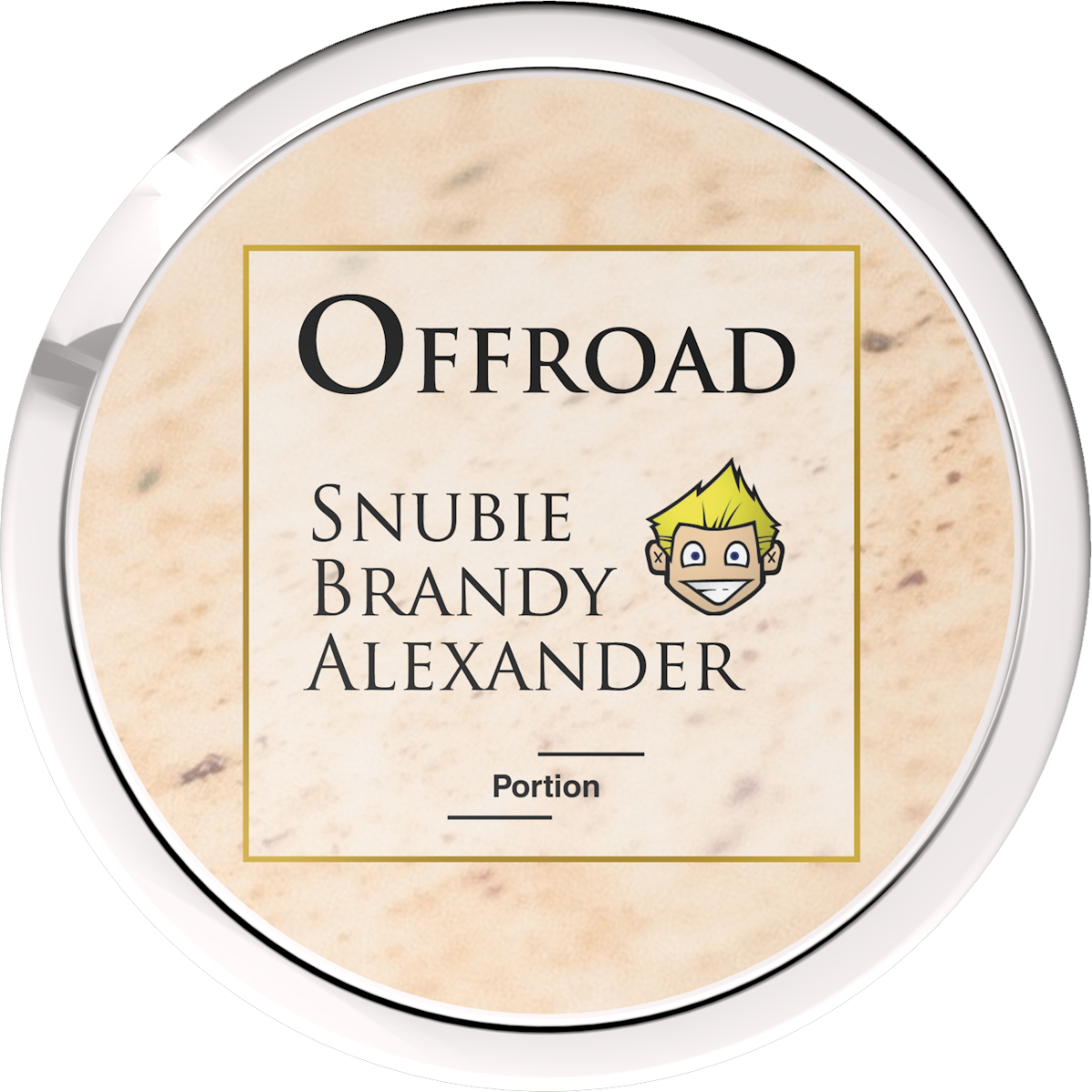 2017 - V2 Tobacco (Denmark) - Snubie Brandy Alexander Original Portion
In mid-2009 when I first started using snus, V2 Tobacco had released a very special, limited edition loose product called Norströmmen Loose. It came with 5 flavors: Brandy Alexander, Chocolate Raspberry, Dark Vanilla, Mandarine, and Tobacco Top. Yes, snus fans, back then we would get limited editions of nothing but loose snus. My, how the snus world has changed. These were some of the very first loose snus products I tried. I deeply loved the Chocolate Raspberry one, but Brandy Alexander stole my heart from day one. In fact, after it went away, I was able to convince V2 Tobacco to bring it back. They told me if I helped them get their Facebook Page to 500 likes, they would allow it to return as a limited edition. Well, of course I did, and it came back for a short period of time. In 2013, the flavor proved quite popular, and they brought it back again, but in a portion format for the very first time as Thunder Ultra Strong: Brandy Alexander. This went away shortly after, but it planted seeds with me of how much I'd enjoy a portion version of my favorite snus flavor.
In late 2017, I began having conversations with the Brothers Vogel at V2 about creating the perfect version of Brandy Alexander. To me, it had to be a regular strength to strong product in the original portion format. Not just that, but the portions had to be moist, but not too moist, with 40-45% moisture. The cans had to have at least 22 portions in them and at least 0.9g each. After a lot of back and forth over several weeks, it happened: Snubie Brandy Alexander was born. It would have the delectable flavor of the Brandy Alexander cocktail, which is, of course, a good cognac, Crème de Cocoa, and cream. The snus was popular enough that it stayed on the market for a year before it was delisted. In fact, I had begun work with V2 Tobacco on a second snus, which was set to have a mango flavor, before Swedish Match acquired V2 Tobacco and the whole process was cancelled. But, it would have been a great snus!
2018-2020 - The Snus.biz Years (Ukraine)
After Brandy Alexander went away, I began thinking about what I wanted my next project to be. As a loose snus fan, it dawned on me that I should work to create some interesting and exciting loose snus flavors. My mentality from this point on was to develop snus flavors that didn't exist on the market, or that had never previously existed on the market. I noticed a small, upstart, craft company in Ukraine called Snus.biz that was developing some interesting and exciting products. They were also putting 50 grams of loose into a can, which the snus world hadn't seen in quite a while. But, what intrigued me the most, was that they were creating products exclusively in the loose format. After a lot of discussion with them, it would lead to us creating some very exciting and unique flavors over the course of the next 4 years.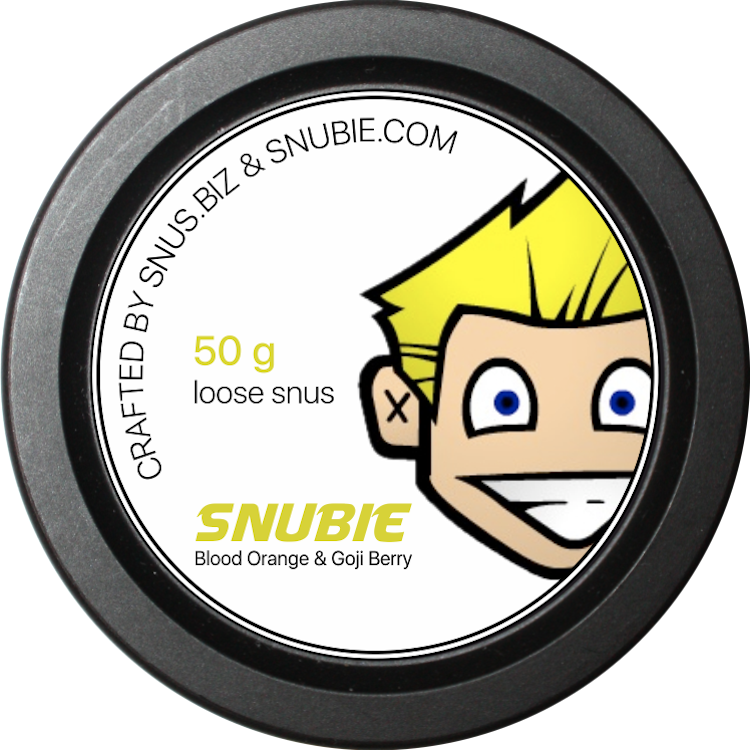 Snubie Blood Orange & Goji Berry Loose (2018)
When we began our first collaboration, we brainstormed a lot of ideas. One that I kept circling back to was blood orange. I can't say this idea was completely original. Swedish Match released a blood orange flavored limited edition snus in their Small Batch series earlier in 2018 that I enjoyed a lot. It made me want to make a great tasting loose with a full bodied taste of tobacco and tangy blood orange. With Snus.biz, the ingredients are everything. So, we went to work! For this snus, we blended a rich, full bodied tobacco base using Virginia, burley, and latakia tobacco. Latakia is a pipe tobacco that I was quite fond of, so I wanted to bring it into this snus. The tobaccos were aged in oak barrels to add more taste. For the flavoring, we wanted to use natural and organic ingredients. With the blood orange, we used the Sanguinello blood orange from Spain, it brought sweet, but tart flavors to the flavor profile. To give it an added dimension, we included Goji berries from China, which were not common to snus. Goji berries are reminiscent of cranberry, or a dried cherry. These flavors all came together quite well in a very special, delicious snus.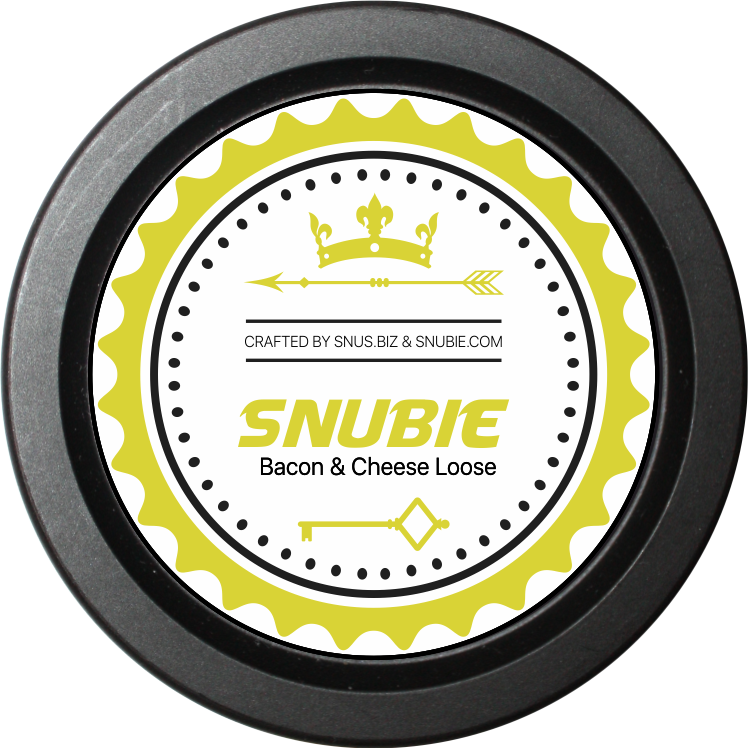 Snubie Mr. Bacon Loose and Snubie Bacon & Cheese Loose (2018)
After the last snus release, I really wanted to get creative, and off the wall for my next one. As I mentioned earlier, my second release with V2 Tobacco was going to be a mango snus. When I was planning that snus, I actually asked the snus community what they wanted. I got to create my dream snus, massively thanks to the snus community for making my website so popular. For my second V2 release, I wanted to make something for the community. I posted a variety of polls, which the mango flavor won. But, one that kept rising to the top was, surprisingly, bacon. When thinking about creating my second Snus.biz product, I went back to these old polls and it made me think "What if?". We began brainstorming about making a bacon flavored snus, and that grew into making a second one, with a bacon and cheese flavor. Why not? The flavor had existed as a nasal snuff product (Toque Cheese & Bacon) for years, so it was time for a snus with that flavor. Snubie Mr. Bacon and Snubie Bacon & Cheese were born!
For these, were blended a few types of tobacco, most notably Virginia tobacco and Turkish Dubek. Dubek is a spicy pipe tobacco that was used to help add some backbone to this snus. When thinking about flavoring with bacon, we ended us using broth from Tokyo-K Duroc marbled pork. This pork is of such high quality that it's often referred to as "the Kobe beef of pork". The pork flavor came through in a major way with this one. For the bacon and cheese one, we didn't want to use just any cheese; we wanted to go top shelf with the cheese flavor. We landed on a Germany cheese, Dorblu. Dorblu is a type of blue cheese, which has a beautiful creamy flavor. As I said, for this next release I really wanted to go off the wall.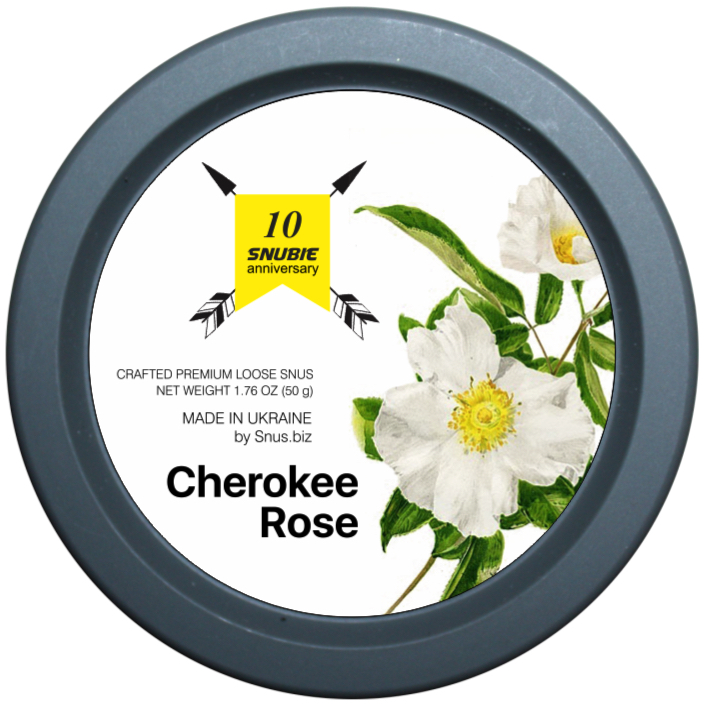 Snubie Cherokee Rose Loose (2019)
2019 rolled around, and I was onto my next collaboration with Snus.biz. We were on a roll with creative flavors, and it was time for another one. 2019 marked the 10 year anniversary of Snubie.com, and I wanted to create something special to mark the occasion. As I mentioned before, I quit smoking in 2009 thank to snus. Snus wasn't the only inspiration, however. I mainly quit for my daughter, Cherokee. I didn't want her to be exposed to smoke, so I always say - without her, there would be no Snubie.com. I'd probably still be a smoker. My daughter was named after the Cherokee Indian tribe, where we have a lot of ancestry on my father's side of the family. And I was trying to think about a flavor to create that would be inspired by her. I was drawn back to the name "Cherokee Rose". Rose was originally going to be her middle name before I changed it to something else. The Cherokee Rose is a beautiful flower, and the legend goes that anywhere a grieving mother's tear landed on the Trail of Tears, a Cherokee Rose would grow. That inspired me to make a Cherokee Rose, floral flavored snus.
We went back to the drawing board, and began with the tobacco base. We went with Burley, along with two others I haven't used before: Black Cavendish and Perique. Black Cavendish is a pipe tobacco that has a smooth, sweet, and slightly nutty flavor. We also used Perique, which is a strong, full bodied tobacco from Louisiana in the United States. This tobacco base was aged in oak barrels as well, for a rich, full bodied taste. To deliver a unique, full floral flavor, the tobaccos were soaked in rose oil before they were pasteurized, and then finished with jasmine essence. This combination created a really incredible flavor. I've created a lot of products over the years, but to this date, this one is the one I'm the most proud of, because of the meaning and how special it is to me.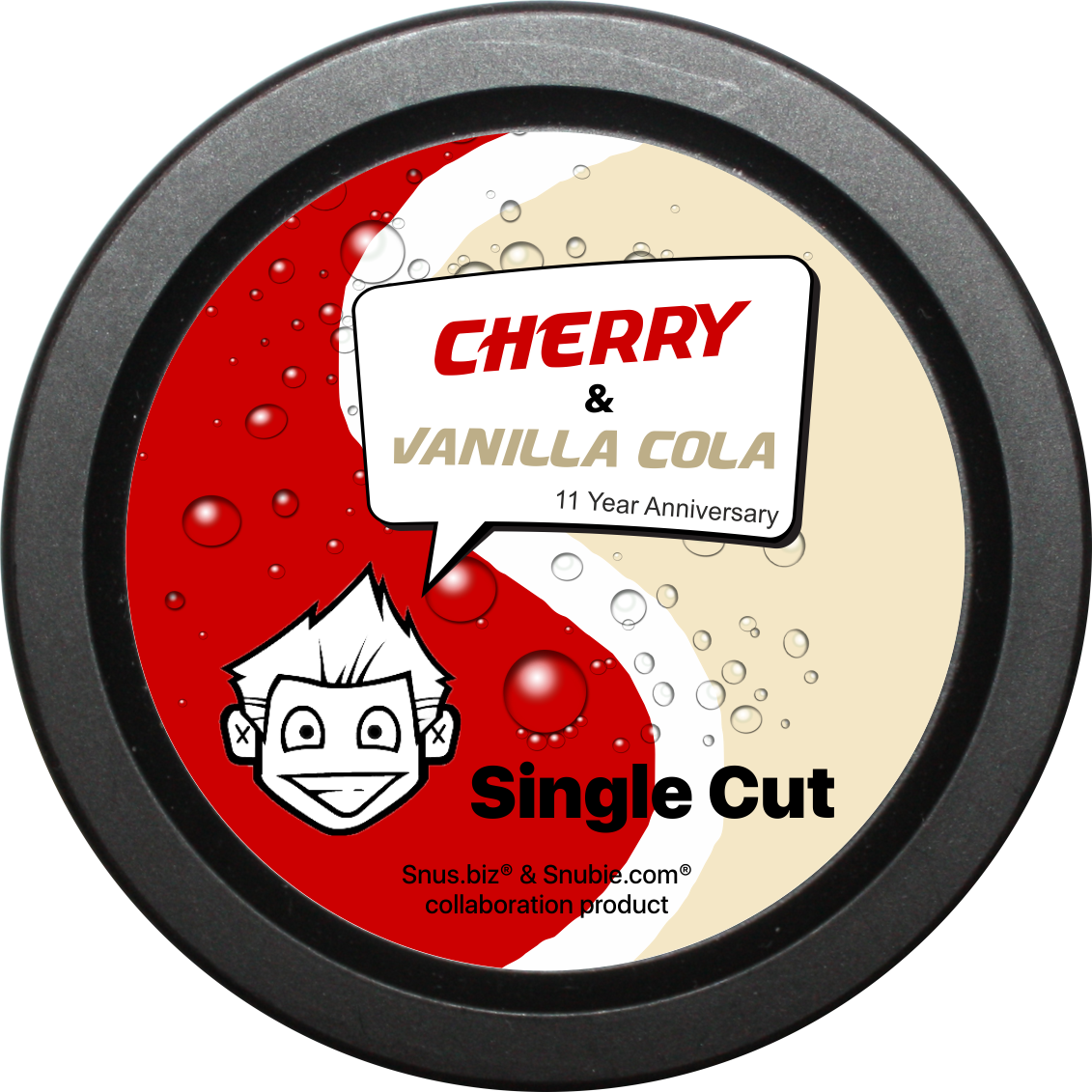 Snubie Cherry/Vanilla Cola Single Cut Loose (2020)
In the early days, around 2010, V2 Tobacco had a product called SnusX. This was a neat little unflavored bag of portion snus, and a set of flavors. It allowed people to experiment and flavor their own products. Some of my favorite flavors to play with were cola and vanilla. V2 would eventually be a Thunder Cola Snus in 2011, which I was a big fan of. I continued toying around with that flavor with Sprilla, which was a bag of unflavored portion snus from Gotlandssnus. Over the years, that flavor combination had been on my mind for quite some time. No snus company really ever made a cola snus with vanilla in the flavor profile. After a decade of dreaming of this snus, I decided to approach Snus.biz with the idea and see what we could come up with.
All my releases with Snus.biz prior to this one were in their "combo grind", which was a mix between traditional snus grinding, and long cut grinding. For this release, I wanted to make a single cut snus. Single cut is what the limited edition Kardus products came in. For Americans, it's akin to long cut, which is what most moist snuff products came in. To me, single cut is a mark of class and quality, and I wanted to bring that to this snus. The tobaccos were aged in oak sherry barrels, to add a different dimension to the flavor profile. In addition to the cola and vanilla flavors, we used actual cherries in this snus. We sourced Melitopol Black, a Ukranian black cherry, which added a lot of flavor to the finished product!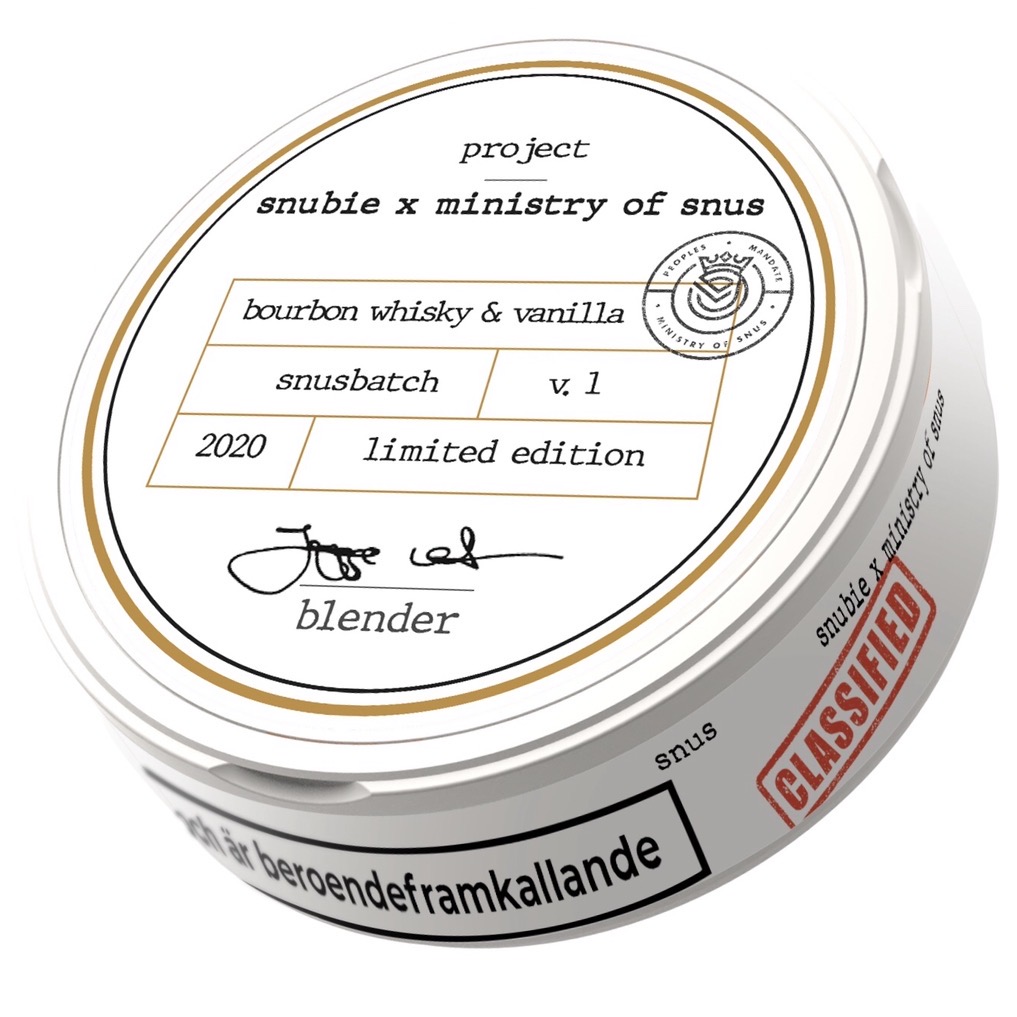 2020 - Ministry of Snus (Denmark) - Snubie x MOS: Bourbon Vanilla (White Portion)
Prior to the release of Snubie Cherry Vanilla Cola Single Cut, I released my second portion snus. Ministry of Snus in Denmark was a relatively new company at the time, and I liked their approach to releasing products. They followed "The People's Mandate", which to them, was making products that the people wanted. When they approached me about making a product, I had a few ideas for how I wanted to approach it. This snus, to me, was to be created entirely by the snus community. It also had quite a long development process, but I really wanted to get it right. I asked the snus community to weigh in on a few things: the flavor, the nicotine strength, the portion itself (white or original), and the portion size (regular or slim). In the end, the nicotine strength was to be at the strong level, and they wanted a full sized, white portion.
The flavor process was interesting; we went through many, many polls to get it right. The snus community suggested a lot of flavors, and in the end, we narrowed it down from over 80 flavors to around 15. Some of the flavors suggested were Vanilla Cola, Watermelon & Lemon, Root Beer and Kiwi Lime, to name a few. The one that kept rising to the top was Bourbon & Vanilla. In the end, that was the flavor that won. Originally, I wanted to use a local bourbon made in my home state of Arkansas, Rock Town Bourbon. However, I later found out how hard it was, logistically, to get bourbon to Denmark. There was a lot of legalities involved. I ended up reaching out to the person who suggested the flavor idea originally and he told me his favorite bourbon was Makers 46. Surprisingly, that product was available in Denmark! The rest fell into place from there, and Snubie x MOS: Bourbon Vanilla was born. It was incredibly popular and sold out quite quickly. Unfortunately, despite customer demand, Ministry of Snus didn't continue producing it. We moved on to discussing releasing a chew bag product for the European market, but development of that one is still in limbo. But, who knows, it may happen at some point.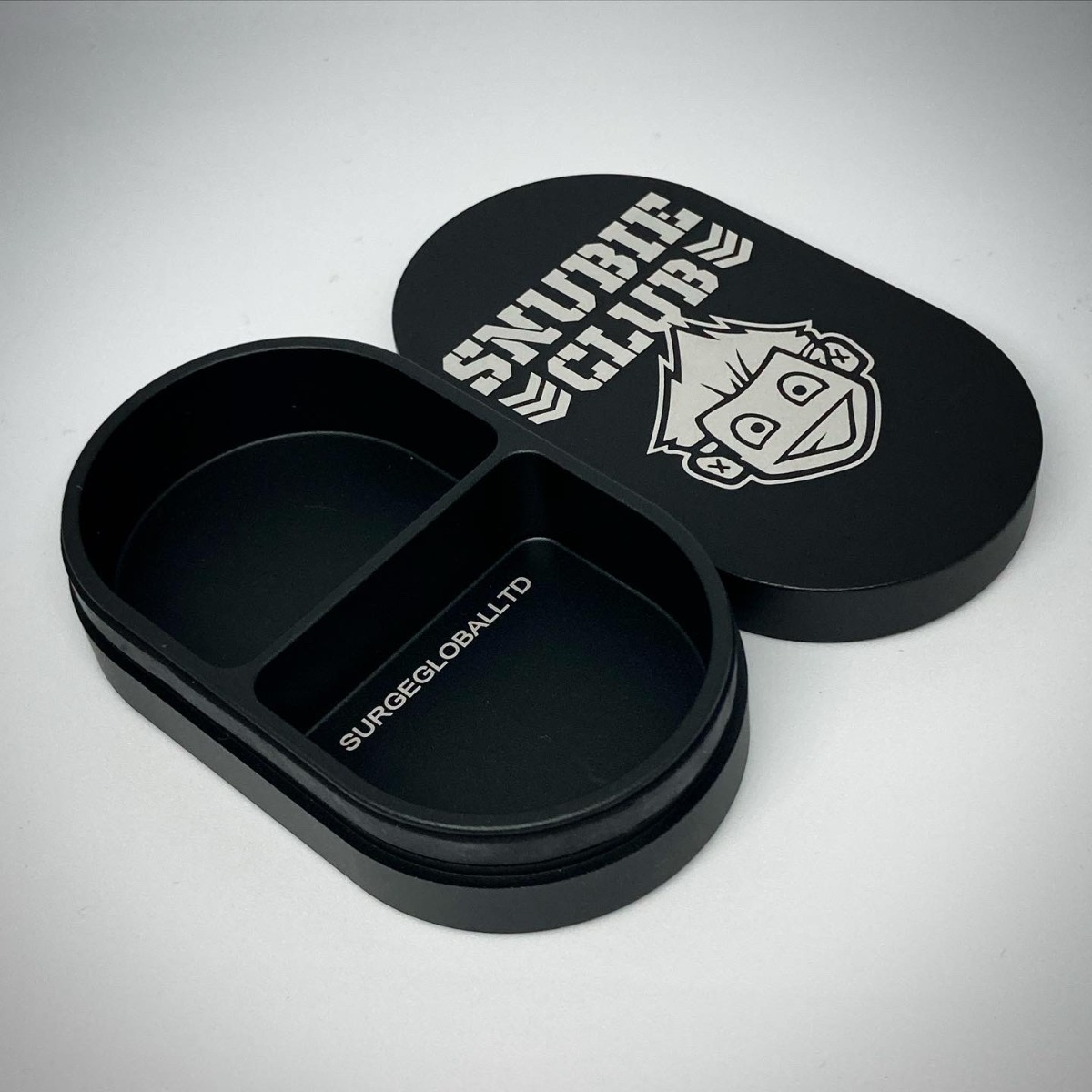 2020 - Surge Global (UK) - The Snubie Can
Okay, so this isn't technically a snus. But, you can put snus in it! Over the past year or so, I've established a good relationship with the folks at Surge Global in the UK. To backtrack, for years I had wanted to make an accessory can that had multiple compartments in it. Why? So you can carry one can around, but have a variety of snus with you. In 2011, I experimented with plastic divided cans that were for fishermen. In 2017, my friend Kiley machined a divider for me that slid into an Icetool accessory can and gave 3 compartments! The folks at Surge Global took note of the popularity of those ideas, and in 2019 began making accessory cans and dividers. They were great, but could be bulky at times. That led me to brainstorming. I came up with an idea of having my own, Snubie branded, accessory can.
Accessory cans had been done before, and I wanted mine to be something different. I wanted it to have a unique size, for one. In the US, having the "can ring" in your pocket makes people think you use American moist snuff, and in some circles that can be frowned upon. I wanted a can that didn't have that shape. I thought back to the old Nick & Johnny East/West cans, which were oblong shaped. Much like the Camel "SNUS" cans, and the US General "coffin cans". I wanted a divider that was actually a part of the can, and not an attachment. To determine the number of compartments and size, I thought about how much of an "on the go" can I wanted this to be. I use General Snus and Göteborgs Rapé snus daily. When I'm out working, or running to the store, I quickly throw those two cans in my pocket and go. But, how great would it be to have a small, slim can that could hold 12-14 portions and fit great in the pocket? That's how we came up with this one. A can that was truly meant for on the go.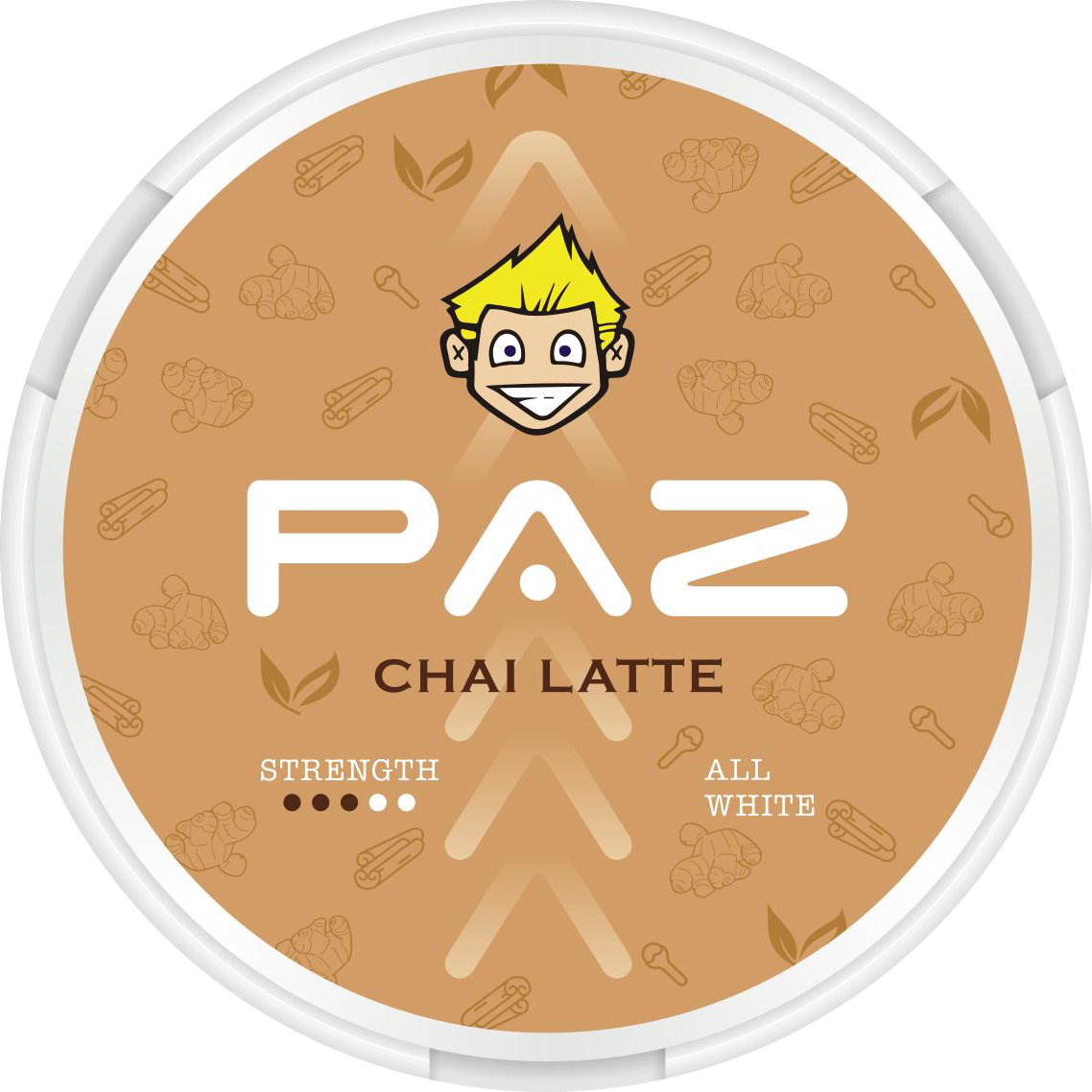 2021 - Dholakia Tobacco (India) - Snubie x PAZ: Chai Latte (Nicotine Pouch)
I am, at my very core, a snus lover. However, if 2020 showed us anything, it's how incredibly popular nicotine pouches are. Being someone who likes to make products that people will use, I began thinking that it was time to make a nicotine pouch. Lots of companies were making them, but I had established a good friendship with the folks at Dholakia Tobacco in India and began discussions with them about making a nicotine pouch product. Dholakia had long been one of my favorite nasal snuff manufacturers, and they had begun expanding into producing nicotine pouches with their new brand, Paz. When brainstorming ideas for a nicotine pouch, it made me think about where it was being made: India! I flashed back to a portion snus product available years ago called Chaini Khaini. It was a love/hate snus, but one that I really enjoyed due to the unique Indian flavor profile. I had also long been a fan of Indian food, and one of my favorite drinks at Starbucks was their Chai Latte. It turns out that Dholakia had been experimented with the Chai Latte flavor, and the rest fell into place. This is what we were going to make!
For this release, I involved friends in the nicotine pouch community through a test panel, and we tweaked many things on it, including the strength, portion weight, and flavor. The first batch didn't have vanilla in it, but we added a spot of vanilla to the flavor profile to kick the flavor up a bit. In the end, it turned out to be an incredibly well rounded product. I personally don't use nicotine pouches, but the flavor was so good that it was one that I could see myself using. That's saying something!
Onward and Upward
At this point, I've released 8 Snubie branded products: 7 snus products, and 1 snus accessory. There's much more I want to do. I still have yet to release a chew bag product, and a CBD pouch product. But trust me, it will happen. Honestly, this whole process has been incredibly humbling to me. In 2009, I was just some random guy with a blog. Over the past almost 12 years, my website has grown to be a huge resource for product news, reviews, and industry insight. Through that growth, and the relationships I made all over the world, I have been incredibly blessed to make products that I want to see, but also products that the snus community wanted to see. I've had many more discussions with other companies about products I want to work on and create in the future so I can say this: keep your eyes open. There are lots of new and exciting Snubie branded releases that will be coming in the years ahead. And I couldn't be more thankful to the snus community for how encouraging they have been, and supportive of these releases. It never would have happened without them. It has been a lot of fun to go from snus user to snus maker, and honestly, one of the greatest honors of my life!