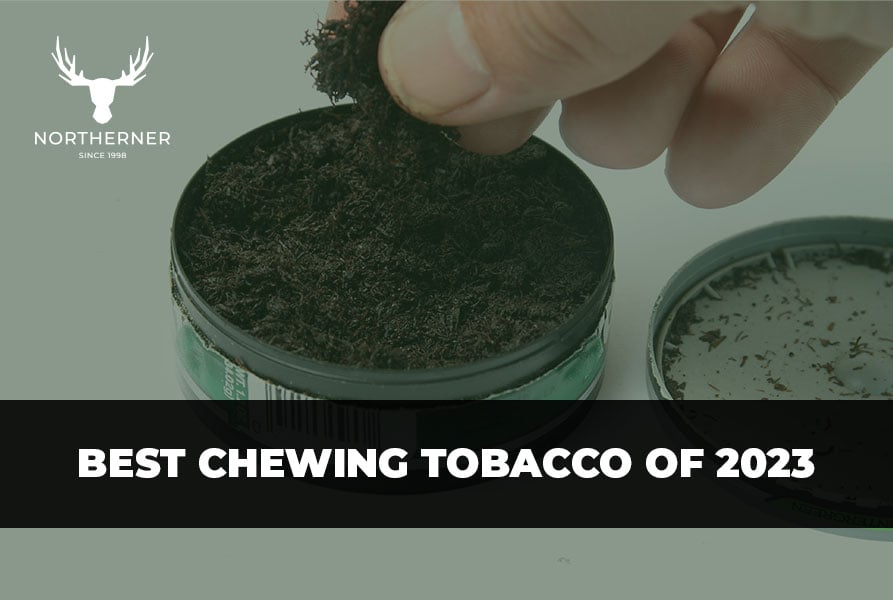 Best Chewing Tobacco of 2023
Looking to branch out to new chewing tobacco products? Or looking to find out what is bestselling chewing tobacco among Northerner customers? Look no further! In this review, we review the best of chewing tobacco for 2023. Our selection is based on extensive purchase data and expert reviews: whether you focus on rich flavors or the mouth feel, this guide is made to give you our expert's honest review of the top chewing tobacco from this past year.
Best Chewing Tobacco Brands of 2023
When it comes to chewing tobacco, exceptional quality and flavor are important. Get ready to explore the top chewing tobacco brands of 2023 out of all chewing tobacco brands with reviews from our Northerner chewing tobacco experts and all the details you need about each brand.
1. Stokers
In number one spot for best chewing tobacco brand is Stokers. For chewing tobacco enthusiasts who want a brand that combines a rich history and exceptional quality, Stokers is a name that stands out. With roots dating back to 1940, Stokers has been providing quality chewing tobacco experiences for over eight decades. This longevity is a testament to their commitment to crafting top-notch products (including loose leaf chewing tobacco) that users can rely on, using only the finest tobacco leaves. The brand takes great pride in sourcing premium tobacco, ensuring that each chew delivers a robust and balanced tobacco flavor, showcasing all the deep notes you get with tobacco-flavored products. This is part of what sets Stokers apart and contributes to their reputation for producing some of the best-tasting chewing tobacco on the market.

Stokers Chewing Tobacco is also known for its generous portions. Whether you opt for their original blends or explore their enticing flavored options, Stokers offers ample quantities that provide extended enjoyment. With Stokers, you can expect a satisfying chew that lasts, allowing you to fully immerse yourself in the experience. Their commitment to using premium tobacco, generous portions, and extensive quality control has earned them a well-deserved reputation among chewing tobacco enthusiasts. All this is part of what put Stokers at the top of the best chewing tobacco brands list for 2023.
2. Red Man
Red Man (now known as America's Best) is a brand rooted in tradition and is renowned for its distinctive flavor. With a history dating back to 1904, Red Man has been a known name in the world of chewing tobacco for over a century. One of the biggest standout features of Red Man is the finest and freshest tobacco leaves that they use in their chewing tobacco products. The brand takes pride in the fact they carefully select premium tobacco varieties and have spent years finding the perfect method for curing that preserves the time-honored manufacturing techniques for the best experience. This quality curing process is what gives every chew of Red Man an authentic and full-bodied taste that is hard to match.
Flavor wise, Red Man Chewing Tobacco is known for its signature sweet flavor that balances smooth, mellow sweetness and a robust tobacco experience. Red Man has maintained the essence of their original recipe from over 100 years ago while incorporating modern quality standards for a quality product that sticks to the classic elements of chewing tobacco. By choosing Red Man, you not only embrace a premium product but choose a product that has been performing for generations.
3. Days Work
In third place is Days Work: a brand for chewing tobacco enthusiasts who appreciate a brand that embodies authenticity and craftsmanship. With a legacy spanning over a century, Days Work has been delivering a premium chewing experience since its inception in 1884. The brand is known for choosing and sourcing high-quality tobacco from select regions, ensuring that their products only contain top cured and expertly blended tobacco made with time-honored techniques. Days Work also offers a range of quality flavors to cater to all chewing tobacco users flavor preferences. Whether you prefer the bold and robust taste of their original blend or the top flavor notes of their flavored options, Days Work delivers a variety of choices to suit your individual palate.
4. Starr
Starr Chewing Tobacco comes in a the top list, with their range of traditional chewing tobacco products. Etablished in 1845, Starr embodies heritage and craftsmanship, with each pinch giving robust classic chewing tobacco flavors. With a dedication to traditional manufacturing techniques, Starr creates a truly authentic product. Enjoy a range of popular flavors that cater to diverse preferences, all meeting rigorous quality control standards. If you want to try a chew brand that embodies heritage, craftsmanship and character, take a look at Starr's range of chewing tobacco!
5. Oliver Twist
Adding a non-American brand to the list, meet Oliver Twist. Rooted in Danish tradition and craftsmanship, Oliver Twist brings their renowned and mini-twist format for a smokeless option popular with chewing tobacco users. Made from high-quality tobacco leaves, Oliver Twist ensures a rich and authentic flavor profile. Oliver Twist products have controlled release, combined with innovation, which has been revolutionizing the chewing tobacco experience since 1805. Looking for one of the more unique best chewing tobacco brands? Browse the Oliver Twist chewing tobacco range.
6. Levi Garrett
With timeless appeal, there was no doubt that Levi Garrett Chewing Tobacco would be in the best chewing tobacco list for 2023. With its roots dating back to 1871, Levi Garrett offers a blend of premium tobacco leaves carefully selected and aged to perfection. Known for its mellow and sweet flavor, Levi Garrett provides a smooth chewing experience. Each pinch delivers a harmonious balance of flavor and aroma, making it a favorite among seasoned tobacco connoisseurs. For a classic and balanced chewing tobacco experience, why not look at Levi Garrett?
7. Lancaster
With their distinctive taste and craftsmanship, it is no wonder the Lancaster Chewing Tobacco range is one of the best chewing tobacco brands. With a heritage dating back to 1860, Lancaster offers a rich and flavorful chewing experience that has stood the test of time. Their chewing tobacco is crafted with high-quality tobacco and captures the essence of tradition and focuses on premium products.
8. Beech-Nut
Beech-Nut Chewing Tobacco - a brand with a rich history spanning over a century. Started in 1871, Beech-Nut products are crafted from carefully selected and aged tobacco leaves that give a mellow and sweet flavor. Beech-Nut remains a trusted choice for those seeking premium chewing tobacco made with classic methods. Their products have stood the test of time, and are still popular among chewing tobacco users.
9. J.D.'s Blend
The exceptional quality and unique blend are what make J.D.'s Blend Chewing Tobacco a top chewing tobacco option. This brand combines a carefully crafted mixture of premium tobacco leaves that give a distinct and flavorful chewing experience. Their products are blended deeply in tobacco tradition, J.D.'s Blend showcases its expertise and commitment to providing the best quality product with rich flavors and smooth texture.
10. Trophy
The history of Trophy spans several decades, establishing itself as a trusted choice among chewing tobacco enthusiasts (and the reason it is in this list of best chewing tobacco brands). Crafted with precision and expertise, their products have flavor depth and a smooth texture. If you are a regular chewing tobacco user looking to elevate your experience, consider giving Trophy a try.
Best Chewing Tobacco Products of 2023: Top 10 Overall
Which products came out on top? Our experts review the most popular snus of all snus pouches based on Northerner customer data!
1. Days Work Plug
"Days Work Plug takes the top spot in the best tobacco chew products list.
Day's Work Plug 2oz is a standout that is made with attention to detail, offering a robust and flavorful chewing experience. Its long-lasting flavor and smooth texture make it a favorite, and you can expect a genuine and authentic chewing tobacco taste. Day's Work Plug 2oz is sure to leave a lasting impression with its exceptional quality and unmatched flavor - the two main reasons it takes top spot as best tobacco chew."
2. Stoker's Apple Leaf
"Stoker's Apple Leaf 16oz takes second place among the best chewing tobacco products. This fine-cut leaf tobacco delivers a sweet apple flavor with the under notes of tobacco. The high-quality blend and long-lasting flavor make it a must-try for chewing tobacco enthusiasts. Stokers' commitment to excellence is evident in the smooth texture and consistent quality of their products, with Stoker's Apple Leaf giving a flavorful chewing tobacco experience."
3. Red Man Original Leaf
"Red Man Original Leaf 3oz stands as a classic and timeless choice among the best chewing tobacco products. With its rich and robust flavor, this original leaf blend offers a popular chewing experience. The premium quality tobacco leaves are carefully selected and expertly crafted to ensure a consistent taste, with their traditional methods creating a classic chewing tobacco experience."
4. Stoker's Cherry Black Leaf
"Stoker's Cherry Black Leaf 16oz makes it into the top 10 best chewing tobacco products, with a sweet yet tart cherry flavor. This chewing tobacco is unique in that it has a blend of cherry-infused tobacco leaves, adding to the depth of flavor. The long-lasting flavor and moist texture along with carefully selected tobacco leaves and expert blending techniques are what make this a top tobacco chew product.
If you're in search of a bold and fruity twist to your chewing tobacco product, Stoker's Cherry Black Leaf 16oz is a contender to add to your top chewing tobacco products list."
5. Stoker's Fred's Choice
"Stokers Fred's Choice 16oz is a standout option for those who prefer a classic and full-bodied chewing tobacco, with a flavor that combines hints of smoky sweetness with rich tobacco undertones. The finely cut leaves provide a smooth and consistent texture, allowing for easy packing. If you're seeking a bold and traditional chewing tobacco, Stokers Fred's Choice 16oz is a top choice that embodies the essence of a timeless favorite."
6. Stoker's Red Supreme 16oz
"Stoker's Red Supreme 16oz delivers a smooth experience and full-bodied flavor. The blend has a bold and robust flavor profile, with hints of smoky sweetness accompanied by subtle notes of earthiness. The long-lasting flavor and satisfying texture make it a top choice for chewing tobacco users. Stoker's Red Supreme is a testament to the brand's commitment to quality and craftsmanship, earning its spot among the best chewing tobacco products of 2023."
7. Starr 6oz Loose Leaf
"Starr 6oz offers a unique chewing tobacco experience with its distinct flavor profile. The blend combines a subtle sweetness with a hint of spiciness, providing a well-rounded and enjoyable taste. The tobacco leaves used in this blend are carefully selected and expertly processed, creating a smooth chew product. Starr Loose Leaf Chewing Tobacco is a top contender in the best chewing tobacco products list, delivering quality and flavor that is popular among Northerner's chewing tobacco customers."
8. Starr 6oz Peach Loose Leaf
"Starr Peach 6oz offers a twist on the traditional chewing tobacco experience adding a peach flavor that gives a subtly sweet taste. The high-quality tobacco leaves are expertly crafted to deliver a smooth and consistent chew experience. Starr Peach is a standout choice among the best chewing tobacco products, combining the classic tobacco chew with a touch of fruity sweetness. Starr Peach 6oz is a must-try for chewing tobacco users with its unique and delectable flavor."
9. Levi Garrett 3oz
"Levi Garrett 3oz, a timeless classic in the world of chewing tobacco. Crafted from premium tobacco leaves, the blend has a bold and distinctive taste that is unique to Levi Garrett chewing tobacco. The smoothness and moistness mean the flavors can develop fully, for a flavorful chewing tobacco experience."
10. Red Man Golden Blend 3oz
"Red Man Golden Blend 3oz offers a balanced blend of flavor and quality, with a golden hue and distinct taste. The leaf is perfectly moist, ensuring an easy chew that gives the full spiced flavor release. Red Man Golden Blend 3oz is a top choice for its satisfying taste and high quality."
---
Top Plug Chewing Tobacco in 2023
Winner: Days Work Plug 2oz.
"This plug tobacco not only makes the top list for the best tobacco chew product overall but the best plug chewing tobacco too! This product comes in a solid, compact shape, made by pressing and aging a blend of tobacco leaves. The plugs are firm and dense - plus they provide a rich and long-lasting experience when you chew. This plug chewing tobacco is favored by Northerner customers for its convenience, strong flavor, and flexibility to control how much plug you use. Its long-lasting flavor and smooth texture make it a favorite that is unmatched."
---
Top Loose Leaf Chewing Tobacco in 2023
Winner: Stoker's Apple 16oz.
"Indulge in the rich flavors of loose-leaf chewing tobacco with the Northerner's best loose-leaf chewing tobacco of 2023: Stoker's Apple.
Experience the crisp flavor of Stoker's Apple Leaf chewing tobacco. This 16oz package offers a generous amount of loose-leaf chew, carefully crafted for a smooth chew experience. The apple flavor provides a unique twist, complementing the classic tobacco notes with a hint of apple-flavored sweetness."
---
Most Popular Chewing Tobacco Flavors
Most chewing tobacco comes in the classic tobacco flavor - however, over recent years there has been a growing number of flavors joining the ranges of top chewing tobacco brands. But which are the best chewing tobacco flavors of 2023? We look at the top 3 best chewing tobacco flavors if you are looking for a flavor experience that is not solely tobacco:
Apple. The apple flavor adds a pleasant twist to the natural tobacco taste, with sweet and tangy notes. It adds to the fruity and aromatic flavors, adding an extra layer to the chewing tobacco experience.
Cherry. The cherry flavor provides a fruity taste that complements the natural tobacco flavor. It adds a touch of sweetness and tanginess to the chewing tobacco experience.
Peach. The peach flavor offers a juicy taste that pairs well with the rich tobacco undertones. It provides a sweet sensation that adds a tropical touch to the chewing experience.
---
Where to Buy the Best Chewing Tobacco Products of 2023
Ready to elevate your chewing tobacco experience? Look no further than our carefully curated selection of the best chewing tobacco products for 2023. Visit Northerner to buy chewing tobacco online and find these exceptional products at great prices with the added convenience of reliable shipping. Discover Northerner's finest chewing tobacco options - happy chewing!